REVISED: This blog has been edited based on feedback from the Hearthside Online Midwifery Study Group on Facebook.
Once I decided to become a midwife, the next step was determining what type of midwife to become. It was challenging to find thorough information about the different options. I basically could only find a surface-level overview, which I found completely unsatisfying when making a decision that would impact the rest of my career! To help future aspiring midwifes, I've decided to share an overview of the CPM vs. CNM option (Certified Professional Midwife vs. Certified Nurse-Midwife) based on my research.
A variety of opinions
The U.S. is unique in that it offers a variety of routes for becoming a midwife. While the primary licensing organizations are nationwide, each state sets their own regulations. Which means there is a LOT of variety between midwifes with different certifications in different states. A "licensed midwife" is someone who has met the requirements set by the state for licensure. Some states allow for non-licensed midwifes (sometimes called Traditional Midwifes).
There are also different camps of people who are working towards establishing nationwide definitions/regulations and increasing the scope of what midwifes are allowed to do. This leads to a significant amount of debate, and sometimes defensiveness, within the midwifery community.
Certified Professional Midwives (CPM)
Licensed and trained in midwifery only.
You can become a CPM without going to a school. This is accomplished via apprenticeship and licensure requires PEP (Portfolio Evaluation Process).
If you go to school, you can go to an MEAC accredited school or one that isn't accredited. Non-accredited schooling requires PEP as well.
Entry-level education for an MEAC accredited school seems to range from Associates to Master's Degrees
Can practice in most states, but some states will not license CPMs
Can only deliver OOH (Out of Hospital) in the home (if legal in the state) or in a birth center
Does not require physician oversight
Cannot write prescriptions
Care is limited to pregnant or post-partum women in some states. Other states allow well-woman care as well.
A few observations:
This seems to be the preferred route for women who are highly committed to home birth and/or natural birth.
The schooling is regulated, but it seems like training can be inconsistent and highly dependent on the preceptor who trains you (a preceptor is a midwife who trains new midwives). This article has an interesting perspective on "black holes" of knowledge for CPMs.
The autonomy of not having physician oversight is appealing
CPMs typically also become business owners. Some aspiring midwifes prefer the CNM route because they don't want to own their own business. Others prefer this type of autonomy
CPMs typically practice in 24/7 on call roles and as the years add up they can suffer from burnout. This lifestyle can be challenging on families
The cost of training can vary greatly. Schools I've seen can range from $15k to $60k.
The prerequisites for training vary greatly: some schools have no prereqs, others have similar prereqs to nursing schools and other require attending training to become a doula and/or child birth educator.
I met some students who started nursing school and discovered it was not a good fit for them, so they changed to the CPM route so they could focus solely on birth in their education instead of "jumping through the nursing school hoop" (which is a very expensive thing to do)
CPM schools
I looked into a lot of CPM schools. Here's my personal top picks based on what I found:
For CPMs it looks like a lot of the Masters and PhD programs are primarily focused on research.
Nurse-Midwife (CNM)

Licensed and trained as Registered Nurse and in midwifery. 

Entry-level education: Master's Degrees

Can practice in all states, although their scope (what they're allowed to do) varies from state to state.
Can deliver in all settings (home, birth center or hospital) depending on state regulations.
Can provide care from "menarche through menopause" (menarche being the first menstrual cycle).
Needs physician oversight in most states
Can write prescriptions
A few observations:
A lot of information I read seems to assume someone is already a nurse when they want to become a midwife, which makes it challenging to figure out what to do if you know you want to be a midwife and nursing is simply part of the journey.
Education requires an RN and a Master's in Midwifery. There are a variety of ways to accomplish this and as a result the educational path can seem overwhelming to navigate.
Some RN programs require CNA training as a prereq. A few CNMs recommend the CNA training even if it's not required because it helps reduce the culture shock of nursing school.
The practice on CNM seems to range from the Midwifery Model of Care to the Medical Model (where the CNM practices similar to an OB). This article has an interesting take on the necessity for midwifes to be midwifed, which seems less common for CNMs because of the adage "nurses eat their young"
Doula training is incorporated into the midwifery training so it isn't a prerequisite.
In states where physician oversight is required it seems like a midwife's experience is greatly dependent on the model of care of the physician (for example: a mother is 42 weeks, the midwife thinks they should wait for labor to start naturally but the doctor wants to induce)
This option offers career flexibility: a midwife can practice 24/7 on call for a while, then work shifts at a hospital, can move out of midwifery and do other types of nursing or after a few years of experience can become a professor.
The training is expensive (in some cases ranging from $60k-100k)
The prereqs between programs can vary (because there are so many different routes) but along the way it looks highly likely that you'll take Anatomy & Physiology, Microbiology, Chemistry and some upper division Psychology courses.
I ran into several CPMs who had decided to become CNMs for one reason or another. However, there doesn't seem to be a smooth way to become a CNM. It's a lot like starting completely over (educationally speaking).
Certified Midwife
In my research I also came across this option. There seems to be two different definitions: one that is similar to a Licensed Midwife* and one that is similar to the CNM but without the RN. There seems to be some controversy about the existence of the latter option (here is an article I found interesting that touched on this subject and also provides some insight on the history of certification in the U.S.) and when I contacted a school that offered this program they practically encouraged me not to apply since you can only practice in 5 states and it's hard to find positions since it's a "pioneering" role.
The most commonly recommended resources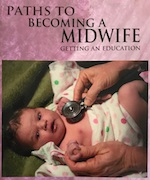 Throughout my research I consistently saw links to these two resources:
This chart that gives an overview of scope and licensure
A few additional actions that helped me make a decision:
I visited a local birthing center and talked to a CPM student
I found a group on Facebook that was very responsive to explaining why they chose the CPM vs. CNM route
A midwife asked me to answer these questions: What are your goals? How do you see yourself practicing?
UPDATE: I chose to attend nursing school! You can learn more about what I love about nursing here.