Right now I'm planning every promotion we'll be doing in 2013. This represents hundreds of different promotions that will be managed by more than a dozen people. I've been using Excel to build my list of promotions so that I could:
Easily filter them by categories (huge vs mini promotion, sale vs product promotion, etc.)
Filter them by date or date ranges
Filter them by who will be running the promotion
Identify the start or end date and then calculate the other date based on how long the promotion should last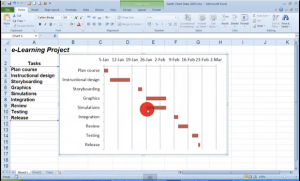 The information is great, but I was having a hard time wrapping my mind around what was going on and how they overlapped. In these situations I find that visuals are incredibly helpful in identifying how much activity will happen in a certain period of time. What I needed was a Gantt chart without the complexity of Microsoft Project. I did a Google search (which is pretty much how I've learned to do everything in Excel) and found this YouTube video that taught me to do exactly what I wanted to do (not to mention the instructor is Irish and I LOVE accents!).
I ended up with a chart that was several hundred lines long, which was pretty but wasn't particularly useful. As I played with different options, I realized that the chart only displays visible cells. So I could filter the data and get really useful visuals. This means I can filter by an individual and see what projects they own over the course of the year and how they overlap AND I can simply look at specific month and see how many promotions would overlap.
I was so excited that I just had to show some of my co-workers. It looks like we'll be using this simple chart to give us visuals for several other planning-related activities. #soexcited