There's a quick and easy way to move an entire Excel worksheet to a different workbook.
Side note: A workbook is what you'd typically think of as an Excel file. It can contain multiple work sheets. Worksheets are added, deleted and managed in the tabs at the bottom.
I've seen people copy entire worksheets using copy/paste. Which works fine, especially if you know the trick that clicking the box in the top left (right between A and 1) will highlight everything in the worksheet. However, this often means that you'll need to reformat your column widths and row heights. A good solution to this problem is to copy the entire worksheet at once.
Step 1: Open both workbooks (the one with the worksheet you want to move and the one you want to move it to).
Step 2: Right-click on the tab for the worksheet you want to move. This will give you a menu. Select "Move or Copy"
Note: It's possible to copy multiple worksheets at once, all you need to do is hold down Command (for Mac) and select multiple tabs BEFORE you right-click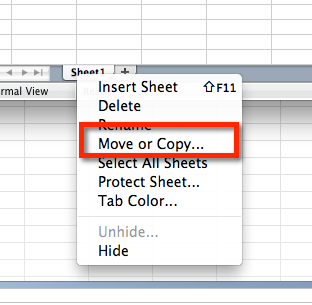 Step 3a: Select the workbook you want to move your worksheet to
Step 3b: Select "Create a copy" (if you want to keep a copy in your current workbook)
Step 3c: Select ok.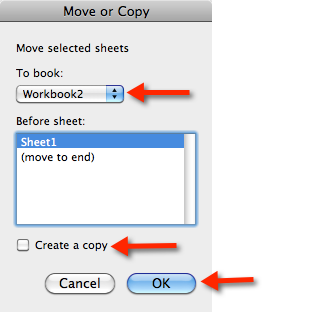 Now your entire worksheet has been copied to another workbook.